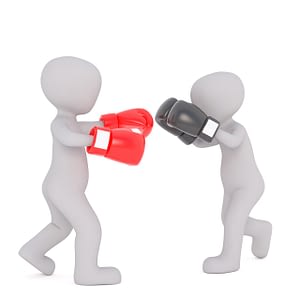 October 10th, 2021
Today's morning pages are an odd duck. I had a difficult time getting sleep lastnight so I ended up waking up right around the time Tyson Fury vs. Deontay Wilder were entering the ring for the heavyweight title of the world for the 3rd time.  So I'm writing this not in the morning like I planned, but after eating breakfast to some human brutality and savagery at the highest level.
It was an interesting fight. A lot more interesting than I thought it would be. I thought Fury would take some close call shots from Wilder and then eventually find a way to knock out Wilder in the mid to late rounds, but Wilder had a lot more heart than he had shown previously.  Wilder took the first shot in the 2nd round, and when it looked like it might be over he came back strong in the 3rd to knock down Fury twice. For a few rounds I thought Wilder might pull off the upset, but Fury was just too good and mentally tough to let his undefeated record slip away.
After the 7th round, I was actually fearing for Wilder's life.  I thought that he would give up a lot sooner or someone would call the fight, but he kept pushing hard and fighting back.  I really breathed a sigh of relief when the referee called it in the 11th round because Fury had already landed at least 5 other blows that would have knocked most men out throughout rounds 8-10. 
While it seems like what the kids call "virtue-signaling" these days, I really was happy and relieved that both men were well enough to walk out of the arena at the end of the day and that the fates had allowed both fighters to really show what they were made of.  It was one of those amazing fights that even the loser who got knocked out gained a lot of respect and clout because he really showed the heart of a champion when he took the shots he took and still tried to continue. 
Of course, in life and in boxing it ain't all peaches and roses. I still am saddened with how Wilder refuses to be a good sportsman and didn't really greet or say anything to his opponent after he lost, and leading up to the fight he was rampant with false cheating accusations and excuses to why he lost their previous match-up.  Despite all that, I'm still very grateful for his will to not give up in today's fight, as it was a great display of courage and fighting spirit that we rarely get to see from people who have multi-million dollar paydays (*cough cough* Floyd Mayweather!)
And it is great seeing Fury win, because he truly is great in the media as well as in the ring. It was a weird day to start the morning with blood, bacon and eggs, but it sure was exciting to witness.
Okay, time to try and work on my first official blogpost to Medium and other platforms.
But one last thing before I close this post up… Just in case you believe all my motives are purely based on sportsmanship and looking for the good in things, I'm still human… I enjoy to occasionally partake in testing my sports "knowing" and put my money where my judgmental Pride is telling me… So I made a small bet on Wilder to win in the first 6 rounds and Fury to win in the last 6 rounds. Fury took it in the 11th, so I netted a cool $100 to spend on sushi with my wife. That may or may not be a euphemism.
That's right… Vegas baby, YEAH!
Until next time, God bless. <3